Using Multiple Computers
If you have more than one computer, you may want to list on eBay using either one. For instance, you may use the den computer most of the time, but sometimes want to sit on the couch with a laptop. Listomax lets you do this, although there are some limitations.
Limitations
The machines must be networked together. This is usually done with a router and either CAT-5 cabling or a WiFi network.
The data must be in a shared folder.
The machine holding the data must be powered on.
Only one machine can run Listomax at a time. If Listomax is running, you must close it before opening Listomax on a second machine.
To travel with your laptop, the Listomax data must be on that machine. When traveling, the machines left at home won't be able to run Listomax. For example: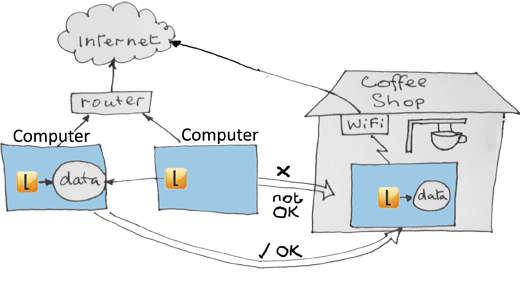 How to share data between computers
Using the first installed copy of Listomax, move data to a shared folder. See moving data for details. It is important to move it to a folder that is shared between machines. You can check its location at any time by Menu > Help > About.
Close that copy of Listomax.
Install Listomax on another machine by downloading it from the Listomax website. It should be the same version of Listomax that is installed on the first machine; this avoids the possibility of data mismatch. If the versions do not match, running the earlier one will cause it to request an upgrade. When the Welcome screen appears, click on the checkbox that says "Use my existing Listomax data". A dialog to supply its location appears:



Find the folder holding the existing Listomax data and click OK. Listomax will start up, using that existing data.