Taking photographs for eBay
Having good pictures on your eBay listings will increase your sales. For those of you who at this point are only comfortable with snapshots, don't worry; that will work, too. Take advantage of Listomax's ability to show lots of photos free with each listing. Lots of photos keep people looking at your listing longer, and often sell your item. For those of you who would like to play around more with your photos, here are some tips to help you get the best from your camera.
Choose a camera
Use a digital camera. Don't even think about using your film camera. Pretty much any digital camera will do; because the images on eBay are typically no more than 800x600, a 1 Megapixel camera will do. You can find a digital camera cheaply on Craigslist or eBay for less than $100.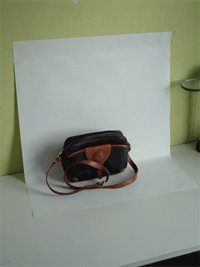 Use a plain background
A plain background for your items will make them much easier to see, and will look very professional. At the right is a 25" x 30" sheet of paper positioned to give a gentle curve on the table. With no more than this, you can get the results shown below. Use your imagination and adapt this idea to match your working conditions. For little or no cost, you can set up a workspace that will produce great results!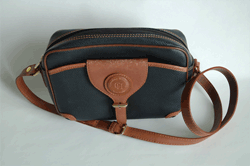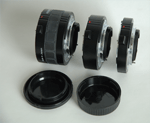 Shoot in close-up mode
For small items like jewelry, you'll want to get in close. Many cameras have a close-up setting, also known as macro. For DSLRs you can use a macro lens, usually expensive, or extension tubes, see at right. In either case, depth of field is greatly reduced, so it is essential to use a tripod and shoot at the smallest aperture.
Shoot at the smallest aperture
Using a small aperture makes more of your picture in focus (known as depth of field.) (The aperture is also known as the f-stop, and larger numbers represent a smaller aperture.) Most cameras have a mode that will achieve this. Look for "Aperture priority mode".
Unfortunately, a smaller aperture needs a slower shutter speed (less light can get through because it's smaller), so a tripod is a great help here.
Use a tripod
Using a tripod allows you to focus accurately and eliminates camera shake. It is invaluable in shooting smaller items. You might think you want a nice light-weight tripod that you can also use on trips. No. I kicked one of those over and did $300 worth of damage to a Nikon D70. Get the biggest baddest heaviest one you can find. Second-hand is fine; they don't wear out. Look for controls that are easy to operate and a quick-release mechanism for the camera; using a tripod that screws into the camera gets very tedious very fast.
You can crop right inside Listomax as well as rotating and adjusting brightness and more.
Crop
You can improve your pictures dramatically by cropping. Any camera above a Megapixel has resolution to spare, so take advantage of that by removing distracting elements at the edge of your pictures. Even if you've fitted it top to bottom, you may have space on the sides, or vice versa. Making your item extend almost to the edge of the frame will give you a much more professional look.
Use daylight if possible
Using daylight is the easiest way to get true colors and faster exposure times. Try working by a window that does not have direct sun coming through it.
If you use flash, try holding a piece of translucent plastic in front of the flash. (Aren't you glad you got that tripod?!) It will diffuse the light and remove those harsh shadows. Most cameras will compensate for the extra exposure needed.
If you use articial light, expecially tungsten, make sure your camera compensates for the lighting, otherwise your pictures will have a color cast.
You can have as many pictures as you like in a Listomax listing at no extra cost.
Use lots of pictures
Pictures help your items sell on eBay, there's no doubt about it. The more pictures of your item you have, the more confidence your customers will have in bidding on it. Make sure to take it from all angles. If it has a flaw, wear, crack, etc., taking a closeup as well as decribing it in the text will also increase your customers' trust.
Put the pictures in your computer
There are two ways to do this:
Use a cable.

Many cameras come with a USB cable to connect to your computer.

Use the memory card.

Most modern computers have memory card readers that accept most kinds of memory card.
See
here
for more details.