Bulk Listing
You can list multiple items at once. On the main inventory screen, hold down the control key to select additional items for listing. After choosing to list as usual with either the menu, right-click menu or the button at right, the following window comes up: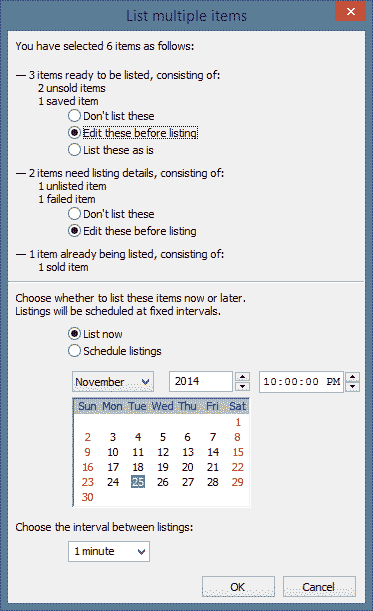 The choices above the line are only shown when they apply.
The top set of choices is for items that can be listed without further input from you because they have been listed before, they are pending, or they are saved items. You have the choice of skipping these items, listing them as is, or editing them. In the latter case, the listing wizard will be presented in turn for each item.
The second set of choices is for items that have not been listed before. You can choose to skip these or edit them. As before, the listing wizard will be presented in turn for each item.
Lastly, if you included sold or currently listed items in your selection, Listomax will remind you that these items cannot be listed.
At the bottom, you can set when these items are to be listed: either immediately or later. If you choose "List now", one item is listed immediately and the rest are scheduled at the specified intervals. You can adjust the interval between successive listings.
Quick Listing
The "Quick List" button also brings up the same window, but with the radio button selections changed to only list items that require no further input from you.
Suggested Work Flows
Avoiding Supplying Details
So that bulk listing can list new items without needing any further input, you can set up all the details needed for the listing — price, duration, category, weight, shipping details etc. — in advance.
Just start to list the item normally, but at the end, choose "Save for listing later". When you are ready to list these items, select them all, then use "Quick list" as described above.
Listing Similar Items
When you have a number of items to list that are similar in some way, e.g. they might share the same price, auction type, description, category or shipping weight, set up a template item and "Save for listing later" as above. Then use Menu > Item > Clone to make copies, and list those instead, modifying only the fields that vary. (Make sure to change the title, or eBay will slap your wrist!)